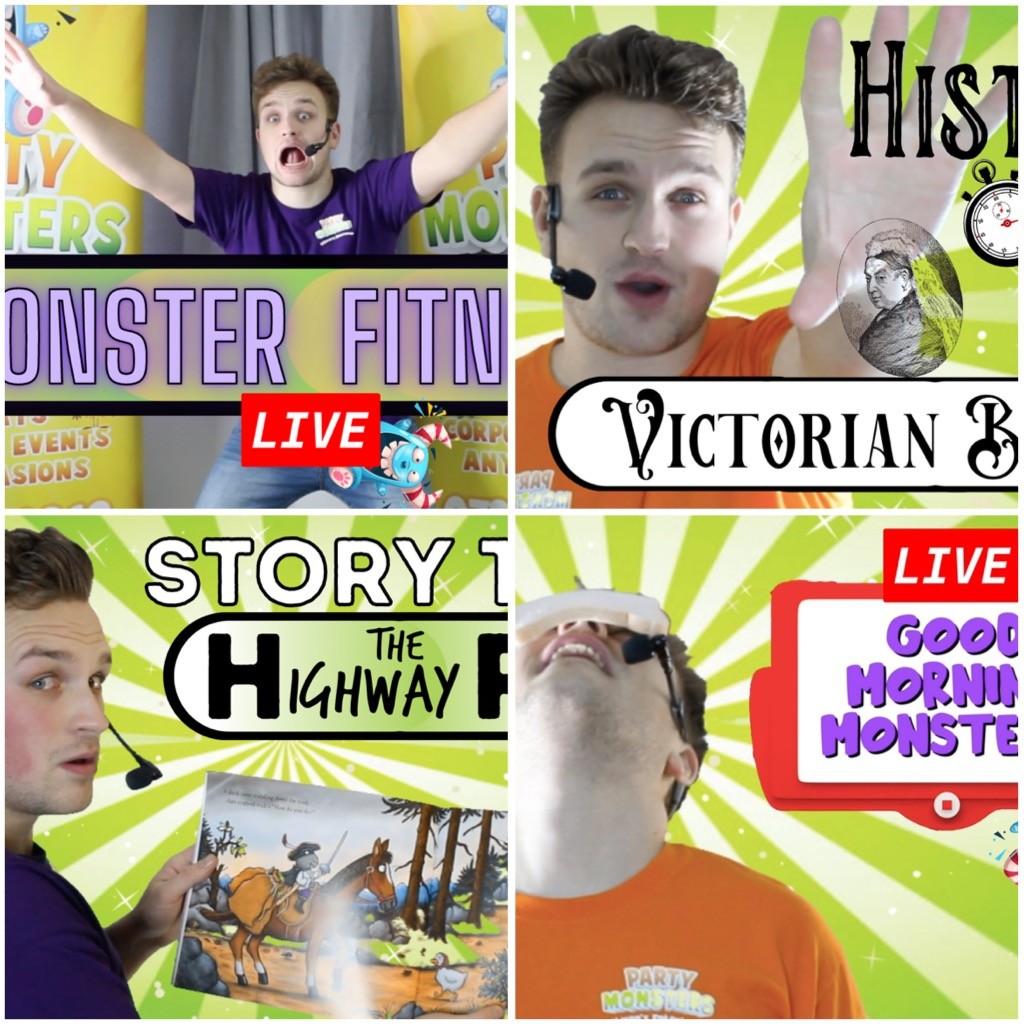 Party Monsters Entertainer Lockdown Activities Week 2
Challenge Time – Story Time – Good Morning Monsters – History Time – Mini Monsters – Monster Fitness
Party Monsters Entertainer & Party Monsters TV would like to welcome you to our amazing lockdown activities for your little ones at home this week which are both fun for the family and also help with home schooling! 
we have a range of various activities happening which include Challenge Time, Story Time, Good Morning Monsters, Monster Fitness, Mini Monsters & History Time! 
We stream LIVE on our FACEBOOK PAGE during the broadcast of each of these so if you would want to join in with the fun LIVE and get a super monster tactic shoutout make sure to join in our activities every week
As soon as we have broadcasted the videos will be available for viewing on this page or via our youtube channel Party Monsters TV
As always if there is a subject or activity you would like us to cover please send us a message via our contact page
This Weeks Free Entertainment happening is:
Monday 1st February 2021
CHALLENGE TIME 
STORY TIME
Its time to relax and unwind as we join Party Monster Matty for a story!
(This is best based for ages 3 – 6 years old)
---
Tuesday 2nd February 2021
GOOD MORNING MONSTERS
This is our amazing kids tv based show featuring many different funny tales, riddles, birthday shoutouts and fun to get your funny bones moving! There is even Prizes to be won every week!
(This is best based for ages 3 – 7 years old)
HISTORY TIME
It's time to learn about some history! Come and join Party Monster Matty as we travel in time to learn some crazy facts and have a look at some of the strange things that happened in Britain.
(This is best based for ages 6 – 10 years old)
---
Thursday 4th February 2021
MINI MONSTERS
Something for those Mini monsters at home, come and join the team as we have a good singsong with some nursery favourite songs! 
(This is best based for ages 1 – 3 years old)
MONSTER FITNESS
Get those dancing shoes on as we do a mixture of warm ups, dances & dancing fun to get the day energy flowing for your monsters at home.
(This is best based for ages 3 – 11 years old